The Brannon Law Firm has represented clients that have suffered injuries from car accidents for over forty years. Within that time, our Dayton car accident attorneys have successfully litigated thousands of automobile accident cases and have obtained numerous million dollar recoveries for our clients.
The laws related to accidents, insurance, medical care, and subrogation can be complex and confusing. An experienced Dayton car accident lawyer can determine who is at fault, if there is insurance coverage, who is responsible for the payment of medical bills and other issues regarding recoverable damages.
Whether you were involved in a minor car accident or a major collision, our lawyers formulate a game plan geared specifically to you and your unique injury. This means that our attorneys will deal with the insurance companies, work to get you the medical care you need, investigate the accident and manage the countless other problems that may arise after an accident occurs.
Dayton Car Accident Legal Resources:
Why Choose Us?
At The Brannon Law Firm we will pursue the maximum compensation for your injuries and defend your legal rights.
We offer free car accident case evaluations – Fill out an online form or call (937) 228-2306
Our Dayton car accident attorney have secured millions for our clients.
We have helped countless clients – Watch their testimonials here.
Partner Dwight D. Brannon has more than 40 years of experience and has obtained multiple multi-million dollar recoveries on behalf of clients.
We will fight for Maximum Compensation
Most automobile accidents are caused by the negligence of other drivers who have carelessly ignored the rules of the road by ignoring traffic signals or drinking and driving.  All too frequently these negligent parties are uninsured or don't carry enough insurance to adequately compensate a victim who has suffered catastrophic injuries.  This often means going the extra step to pursue not only the negligent operator but also third-party vehicle owners, automobile manufacturers, corporations who owned the vehicle, property owners where the accident occurred, automobile repair shops, municipalities and UM/UIM coverage.

Am I Required To Make a Statement With Insurance?
After a car accident, people are often contacted by ruthless insurance adjusters or investigators who try to pressure injured parties into signing documents and making statements that can hurt their case.  Most of the time, insurance companies know injured people need money because they have been out of work and are still recovering from their injury.  They will make low settlement offers that usually don't even cover people's medical bills.  In return for fast money, the victim has to sign a contract taking away their legal rights to sue the at fault driver and their insurance company.
A good Dayton personal injury attorney can help protect your rights to compensation for past and future medical expenses, pain and suffering, lost wages, loss of consortium, wrongful death lawsuit, property damage and permanency of their injury.
What Are the Most Common Causes of Car Accidents in Ohio?
Automobiles are increasingly designed with safety features to alert drivers to unsafe conditions. Yet even with these advances, most automobile accidents in the Dayton area are the result of negligence by drivers who fail to follow the rules of the road and operate their vehicles in an unsafe manner. Here are the top contributing factors to traffic accidents.
Drinking and Driving
In 2016, there were over 12,000 alcohol-related crashes in the state of Ohio. This resulted in over 5,000 injuries and 346 deaths. Every one of these drinking and driving accidents was preventable by the driver, and the tragic consequences of OVI (operating a vehicle under the influence) are felt for years by the victims of these crashes. In addition to the driver, negligence on the part of alcohol servers may also contribute to these accidents.
Excessive Speed
Driving too fast is an entirely preventable cause of accidents, yet year after year it remains one of the most common causes of accidents. Excess speed may mean driving over the speed limit, but in a greater percentage of accidents, the driver was driving at a speed unsafe for conditions. Factors such as weather and the speed of the traffic can make driving at even the posted speed limit unsafe. Drivers are required to slow down when road or traffic conditions warrant caution and failing to do so results in many injurious or fatal accidents every year.
Failure to Yield
There can be many reasons why a driver might drive through a red light, fail to stop at a stop sign, or otherwise fail to yield the right-of-way properly. Whatever the cause, failure to yield properly is one of the leading causes of accidents that our Dayton car accident lawyers see in Ohio each year. The resulting collision is often not only the cause of property damage, but also injuries and deaths.
Following Too Closely
Many people take driving for granted as it is such a familiar activity, but it pays to remember that when a driver gets behind the wheel, they are taking control of a several ton vehicle and maneuvering it at high rates of speed. It takes vehicles time to come to a stop when conditions suddenly change in front of them and following too closely behind another vehicle is negligent driving behavior.
Improper Lane Change
We see this all too often on our roads. A vehicle suddenly changes lanes without signaling or checking to make sure the lane is clear. Oftentimes there is no room for surrounding cars to maneuver or get out of the way in these situations. Accidents resulting from unsafe lane changes can result in severe crashes. In 2016, over 6,000 injury accidents resulted from drivers making unsafe lane changes.
If another other driver's negligence caused your injury or the death of your loved one, you are entitled to fair compensation and a compassionate Dayton car accident attorney at our firm can help. Money can never fully cover the pain and loss you have suffered, but compensation for your damages can ease the financial burdens resulting from your accident, and help you and your family recover.
How Common are Distracted Driving Car Accidents in Ohio?
In the State of Ohio, it is illegal for an individual to use a handheld mobile device and operate a motor vehicle. Section 4511.204 outlines driving and text message bans for individuals as well as exceptions to this rule.
Although Ohio has a texting while driving ban in place, distracted driving is still a leading contributor of auto accidents. In 2017, 13,997 drivers were involved in accidents involving a distracted driver. 58% of all of these crashes were caused by "Other inside the vehicle" or simply put by other individuals inside of the cab, food or music.
In 2017, "Phone" and "Texting/Emailing" accounted for 25% of all distracted driving accidents in Ohio.
Some individuals may think that simply sending or reading a text message is harmless, at 55 miles per hour. However sending or reading a text message is the equivalent of driving the length of a football field with their eyes closed.
It is also important to be aware that distracted driving behavior that does not include texting and driving can result in auto accidents as well. Stay focused and stay alert while driving.
Who Is Most At Risk To Be Involved in a Distracted Driving Accident?
Generally speaking, the younger an individual is, the more likely that person is to be involved in a distracted driving accident. 
Among drivers involved in fatal crashes in 2018, those between the ages of 15-19 were the most likely to engage in and be involved in fatal auto accidents. The least distracted drivers by age group were individuals between 50-69 years of age.
What Compensation Can Be Recovered After a Car Accident in Dayton?
Every auto accident case is different, and every case settlement is calculated depending on the damages inflicted on the victim. This can include how serious the injuries were after the accident. it also depends if the guilty party is found responsible for all of the victim's damages. Unfortunately, getting a settlement can take longer than expected, especially if insurance adjusters and the guilty party do not want to pay for the victim's injuries and economic damages. Evidence must be gathered in order to have a higher chance of getting the most compensation available, that is why hiring or talking to a car accident attorney can help you recover the highest settlement for your damages.
How Long Do I have to File an Accident Lawsuit in Ohio?
Two years is the statute of limitations in Ohio for accident lawsuits. This means you have two years to file a lawsuit from the date of the accident against the defendant in order to seek legal remedy. If you are unsure if you have a lawsuit or not, seek help from a legal expert, you can reach our team by calling our Dayton office (937) 228-2306 you can also tell us more about your case by filling out an online contact form.
Traffic Accident Fatality Statistics in the U.S.
According to the National Highway Traffic Safety Administration, the age group with the highest amount of fatalities in a car accidents were people between the ages of 25 to 34 years old. In 2017, statistics show that nearly 7,000 people were killed in car accidents between the ages of 25 and 34. This age group had more than one thousand more deaths compared to every other age group.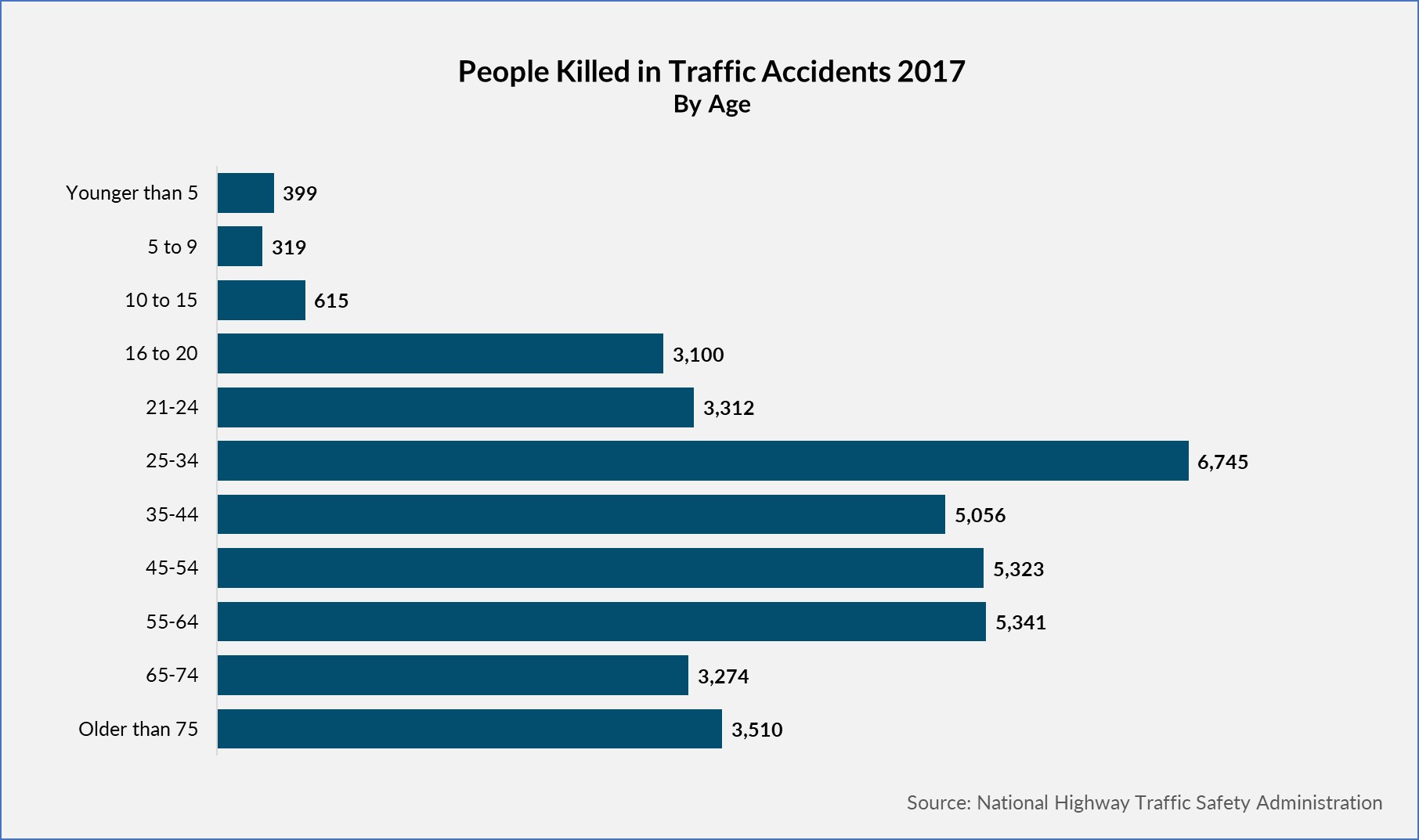 Car Accident Fatalities by Age Group
Younger than 5 : 399
5 to 9: 319
10 to 15: 615
16 to 20: 3,100
21 to 24: 3,312
25 to 34: 6,745
35 to 44: 5,056
45 to 54: 5,323
55 to 64: 5,341
65-74: 3,274
Older than 75: 3,510
Contact Our Dayton Car Accident Lawyers
Most people believe that it costs a lot of money to be represented by an experienced car accident lawyer.  At the Brannon Law Firm, our Dayton legal team represents accident victims under a contingency fee agreement.  This means that we do not charge any fee unless we win your case.  Furthermore, our firm has the resources to hire leading medical experts, accident re-constructionists and all other persons essential to getting you the verdict you deserve.
At The Brannon Law Firm we work on a contingency fee basis, meaning you pay nothing unless we win your case. Our accident attorneys have more than 40 years of helping victims get the compensation they need. Our team has also successfully won millions for our clients. Give us a call at any time and schedule a time to talk with one of our legal experts, we will walk you through every step of the lawsuit process and make sure you are fully informed. We offer free consultations in our office, at your home, and even in the hospital.
Contact our Dayton accident lawyers to see how we can help you with the injuries you have suffered as a result of an accident. You can reach our Dayton office at (937) 228-2306.